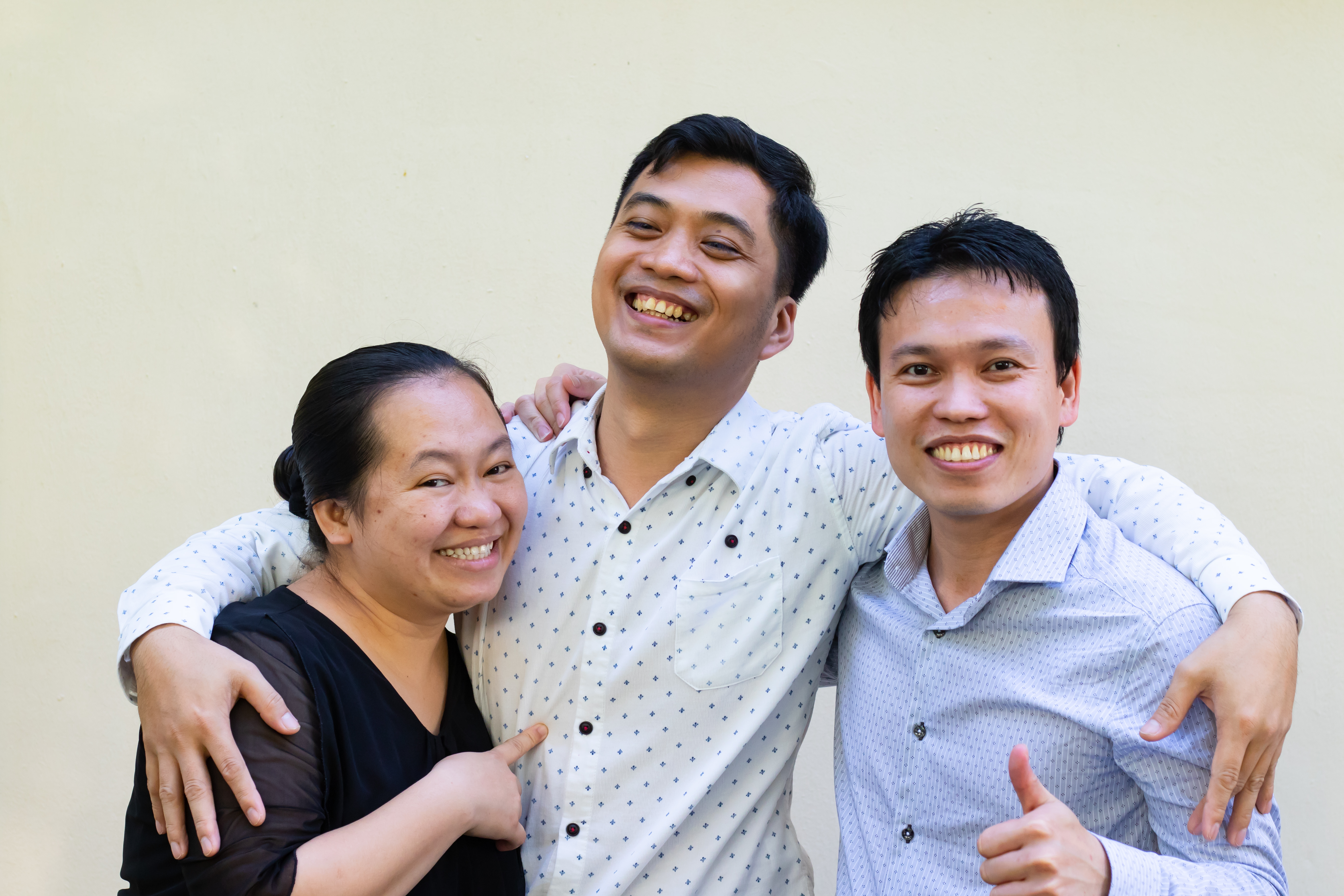 Originally a programmer from Manila, Sheila got a referral from a friend about a job post in Singapore. Trying her luck, she sent her résumé and landed the job in November 2006. Danilo, an architect from Leyte, had a similar experience as Sheila. He came to Singapore in the year 2013 through a job offer. Deo had a more dramatic story. He ended up in Singapore because of a failed medical examination and a rejection to a job application in Kuwait. One afternoon in 2007, while helping his father in the field, he got a call from an employer in Singapore offering him a job. 
THE KEY CONNECTION
Danilo with his wife had been attending a UPC church in the Philippines.  His pastor, upon knowledge that he will be going overseas, told him to attend an apostolic church in Singapore.  He went online to search for Tabernacle of Joy (TJ) and attended the church service.  His experience in TJ's Filipino Joy Fellowship (FJF) was life-changing and the church family made a huge impact on his spiritual growth.
Sheila, on the other hand, was from a Trinitarian Pentecostal background. She got an invitation to attend FJF from a friend whom she had met online.  After more than a month, she finally accepted the invitation and went to TJ thinking it would be just like the other Christian churches she had attended before. But it wasn't. That Sunday changed the course of her life, in three tongues and one interpretation, the Lord spoke to her and she has never found a church where the gifts of the Holy Spirit manifested so harmoniously.
Sheila had a revelation of the Oneness of God in the person of Jesus Christ and got baptized in the name of the Lord Jesus. Her TJ-FJF family helped her to be grounded in the truth and to draw closer to our Lord Jesus Christ. Sheila was zealous to share the truth, finding every opportunity to witness to others about this truth, even to the extent of returning to her previous denominational church.
Deo was attending another church during his time in Singapore. He was invited to a gathering that coincidentally, Sheila was also invited for. At this gathering, Deo got to know Sheila.  Through the course of their conversation, Deo asked if Sheila could teach him a bible study. Being taught Unlocking The Bible (UTB) and invited to TJ services, Deo got baptized in the name of Jesus. Deo fell in love with the truth and despite being known as a quiet person, he started evangelizing with boldness, sharing the Gospel, even to those with different faiths.

THE IMPACT
Deo has since reached out to his colleague, a local Chinese Singaporean. The same way Deo was impacted by UTB and the church body, Deo shared it with his colleague. In March 2011, partnering together with TJ brothers, Deo witnessed his colleague being born again of water and spirit and become a member of TJ.
FJF rents a venue for Sunday Morning service. Over the course of time, Pastor Dodjie Cargando got to know the landlord pretty well. FJF sisters would witness to him and eventually, the landlord signed up for UTB. Danilo was assigned to teach this bible study assisted by Sheila and other FJF brothers. Little did they know that the landlord will not turn up alone to the bible study, but together with his whole family. After the lesson on water baptism, the whole household of five committed to being water baptised in Jesus name in July 2018.
They have discovered that God can use anyone who is willing and available to be a vessel to teach and spread His Word to others, even to those of different race. Truly, the Lord is no respecter of persons. He wants all men to be saved and come to the knowledge of the truth, and His salvation is for all regardless of nationality, skin or hair color, language.
Jesus has given everyone a pattern for disciple-making. He entrusted the Great Commission not to one person but a group of people from different walks of life. These hand-picked disciples worked together to execute their mission to "GO…TEACH…BAPTISE" like soldiers carrying out their Commander-in-Chief's order.
Looking back on these experiences, beaming with great joy, this threesome could only say that they were adapting what they had heard from Bishop Joe Ellis, "God-You-Us." That is all we need to reach this world.