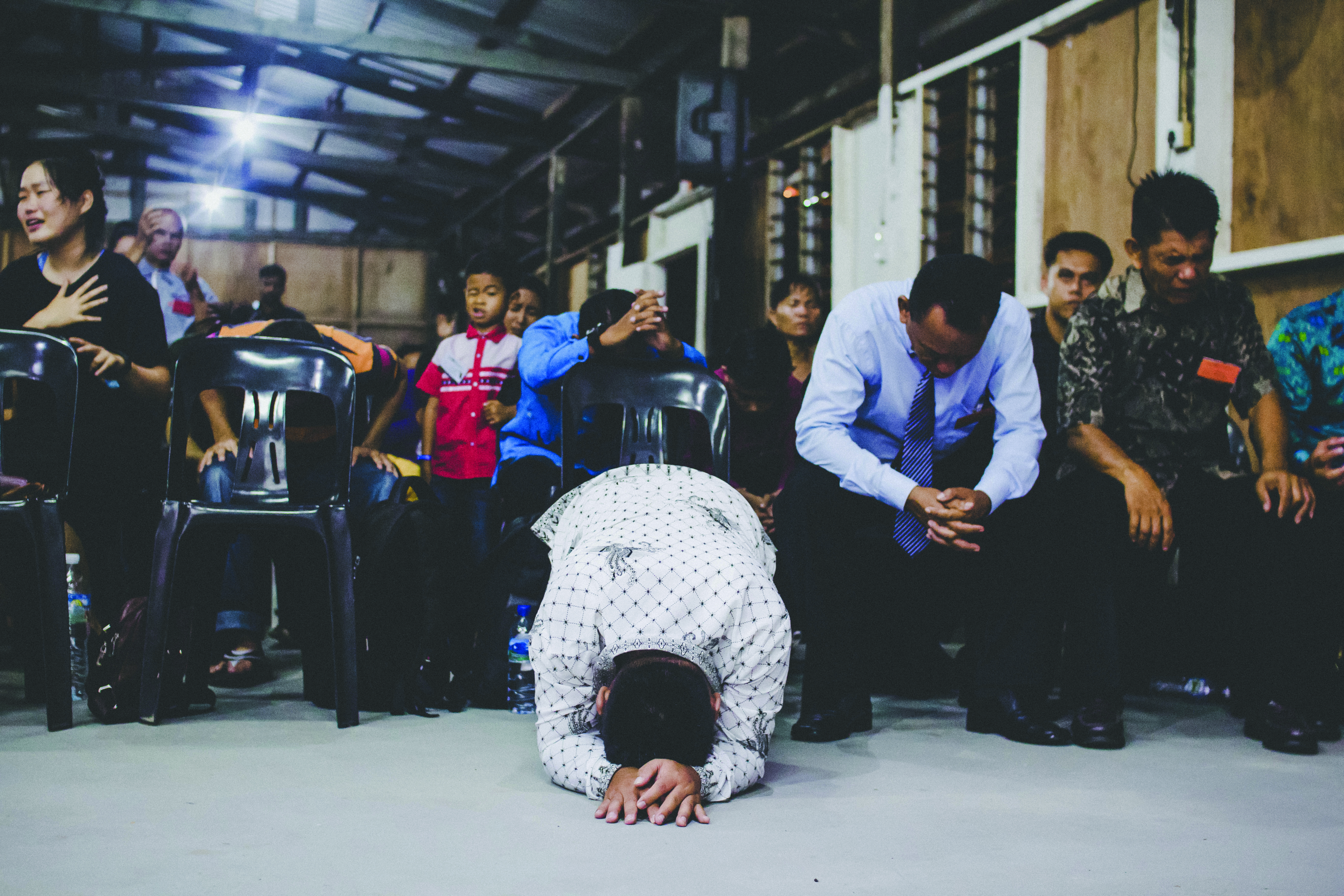 30 churches. 20 outreach points. 3,000 constituents. This is the story of how God used a network of workers for the kingdom to bring the whole gospel to East Malaysia.
The year was 1984 when Brother Clement Colandaraj, a young Malaysian in the navy, led a fellow colleague to the truth in Lumut, Perak. The next year, he organized a mission trip in December 1988 to a little village in Sabah, Kudat. Fast forward to 2018, today Sabah is a network of 30 churches and 20 outreach points, with about 3,000 constituents.
As I face the waves of the South China Sea, I stand on a majestic outcropping of rock called the Tip of Borneo.  I am soon joined by the rest of the Tabernacle of Joy (TJ) mission team of May 2018.  Behind us, we have just taken a treacherous climb down from a bronze globe, which displays our location near Kudat, and within the broader country of Malaysia, and then as part of the region Southeast Asia. The moment reminds me that God has sent the Gospel to a place far away from the places that Jesus' ministry had originally touched.  The words of Jesus are being fulfilled, to "go and make disciples of all nations", as are the words of Peter, "for the promise is unto you, and to your children, and to all that are afar off, even as many as the Lord our God shall call".  Later on, I interview the current Assistant General Superintendent of East Malaysia's United Pentecostal Church (UPC), Pastor Clement Colandaraj.  His account helps me begin to understand the journey that Sabah has taken to become a maturing work in the region.
EARLY BEGINNINGS
The work in Sabah began at another location in Malaysia. While Brother Clement was pastoring in Lumut, Perak, around the year 1984, he was also on a naval ship deployment in Sabah for 3 months. While at a yacht club in Sandakan, Sabah, he heard an audible voice telling him to "come to Sabah." Soon, Brother Clement found influence as a senior in the navy, and would often encourage new recruits in their dormitory to attend church. A young Sabahan, Madusi Mangabun, was one of them. Following church services, Madusi was one of the young people who would come back to Brother Clement's home.  Brother Clement's wife, Sister Suk, would cook dinner for those who gathered at their house, and in that way, they were able to share with Madusi about Jesus.  Brother Clement and Sister Suk saw potential in Madusi and discipled him.  Soon Madusi had a burden for his family and invited them to visit his village in Sabah. In the end, he managed to get permission from his Lutheran, Protestant Church of Sabah (PCS) leaders in his village as well as at their headquarters in Sabah, for Brother Clement and Sister Suk to conduct a seminar in their church premises in Kudat.
This meant that the next year in 1988, Brother Clement went on a mission trip to Kudat with his wife Sister Suk, Brother T.A. Leow, Missionary Roger White, and Madusi Mangabun.  Today, Pastor Clement recalls that trip as having been an overwhelming experience.  The revival service was held in the premises of a PCS church.  Many, including children had been filled with the Holy Spirit, and Madusi's family was baptized, around six of them.  An official PCS Church representative from the headquarters attended the seminar as an observer and was also later converted, and eventually became the first local pastor in UPC Sabah.
Brother Clement and his family moved to live and work in Sabah, and started reaching out to the Sabahans in Kota Kinabalu (KK) in December 1989. Since then, Pastor Clement and his family have lived and ministered in Kota Kinabalu.
A NETWORK OF MINISTERS

Some of the ministers and missionaries who became involved in Sabah from the very beginning included missionary Roger White, who visited once each year, in the early days to assist the work. Missionaries Dale and Josephine Starks also visited Sabah regularly, conducting three short term, 9-week Bible Schools over a period of 10 years. As a side note, Dale Starks was the author of Living Logos, a study material still used by TJ today. Among others who came to the shores of Sabah include Sister Donna Maricelli and Rev. Mark Hemus. Missionary Steve Willoughby, who later became Bishop of Tabernacle of Joy, visited yearly to minister in revival services and camp meetings. Brother Willoughby also financed the camp meetings in Sabah's early years. There is a particular house at the Kudat campsite that is still standing today, that was paid for by Brother Willoughby. In addition, in 1996 Brother Willoughby introduced the church in Sabah to Pastor Bobby Mathews of today's Alive Community Church. Pastor Bobby has since then been actively involved in the work in Sabah.
In terms of more recent developments, Pastor Clement further shared that Pastor Timothy Lee had since the passing of Bishop Steve Willoughby, taken on the burden of getting involved with Sabah in a significant way in terms of leadership training and camp meetings every alternate year, and through the contribution of resources including finances, discipleship materials and systems. In a sense, the baton of caring for the church in Sabah has been passed from Bishop Willoughby to Pastor Timothy, further cementing TJ's involvement with Sabah. TJ's now spiritual covering under Bishop Joe Ellis also led to Sabah's own connection with Bishop Joe Ellis, who Pastor Clement testifies has led the work into a deeper apostolic lifestyle and maturity ever since his involvement in Sabah.
EXTRAVAGANT WORSHIP As the van trundles towards the camp grounds, we have sat for 30 minutes and are in an expectant mood. What move of God will there be tonight? We suddenly take a turn off the asphalt, onto a gravel path in pitch black. Against the silence of the Malaysian outback, we hear the ocean nearby and immediately recognise it as the vicinity of Kudat. Soon, the distant sound of praise and worship music can be heard. Now it is unmistakable – we are arriving at the camp grounds.  Enroute, we had heard stories about campers' sparse conditions at the grounds. Young people sleep on flattened cardboard boxes that the coordinators have prepared, and showers are taken with cold water from a Shanghai jar and a scoop. In comparison, the hotel we have been put up in has running hot water. We marvel at the hunger and spirit of the campers.  This positive disposition sets them up for extravagant worship. When the music starts playing, the campers dive into extravagant worship. We immediately feel the same spirit that we do every Sunday, even when half the songs are in Bahasa Melayu.
SINCE THE EARLY YEARS
Looking back, Pastor Clement described some of the spiritual investing and testimonies that have come to pass in Sabah. From Asia, United States and United Kingdom, some contributed finances to conduct a two-year, full-time bible school while others helped purchase property. The introduction of Purpose Institute has helped train many ministers to be equipped with apostolic ministerial skills and the introduction of Next Steps has also helped Sabah train disciples.
Each connection was significant and unique in playing a strategic part in this work.
THE WORK OF THE KINGDOM
In between day and night services, the TJ team has the pleasure of witnessing several baptisms. As our photographers wade into the water and capture these moments, I am reminded that this is the foundation of The Great Commission of Jesus. We are to go and make disciples of all nations, baptising them. All the prayers, contributions, sacrifices – in time as well as in resources – do not go to waste when people repent, get baptised in Jesus' name, get filled with the Holy Spirit, and eventually get trained as disciples.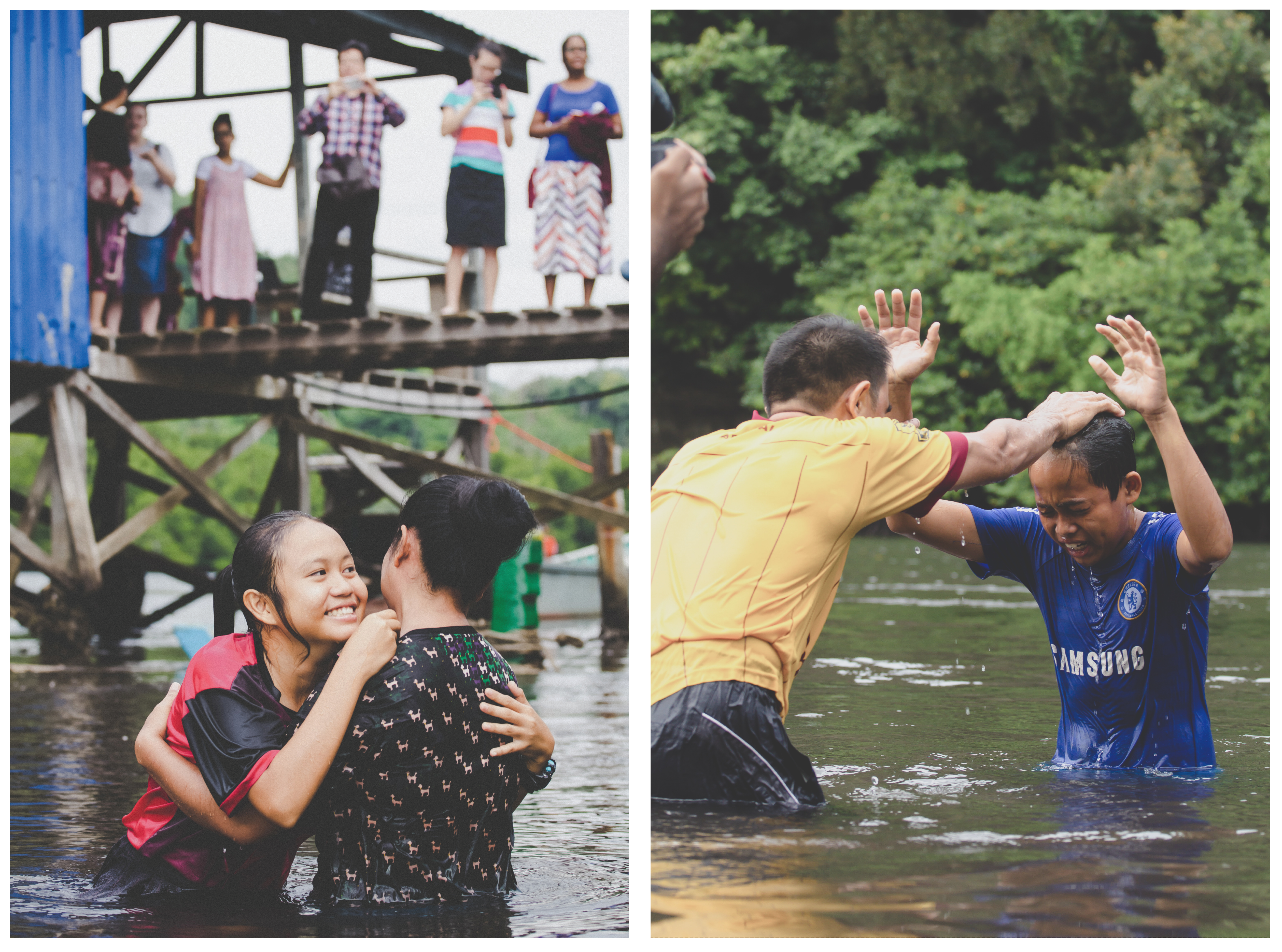 Even after the end of the mission trip, I know that this is not the end of the journey.  Pastor Clement remarks to me later on, that the support given by Tabernacle of Joy and others have motivated the ministers and saints to give their all, and to help UPC Sabah grow throughout the state. Now, the Sabah work is involved in other districts such as Sarawak, Tarakan, India, Nepal, South Korea, the Philippines, and Myanmar.
When asked how TJ saints can contribute to the Sabah church, Pastor Clement was quoted, saying "Team up with Pastor Timothy and Sister Leah and pray for us as the Holy Spirit leads."
Looking to the future, Pastor Clement's vision for UPC Sabah is to "Impact Borneo and Beyond" with the definition of Borneo including Sabah, Sarawak, Brunei, and Kalimantan in Indonesia. He adds that
"Beyond" is any place, and any nation where the Lord would lead.